Training - We Are OPEN UNDER RESTRICTIONS
Please review this page for more information on training during Stage 2 restrictions
Memberships
Athlete's Portal
COVID – Information for Members
Under current restrictions we continue to serve all athletes.
HIGH-PERFORMANCE and PROFESSIONAL ATHLETES
We train high-performance and professional, athletes including those who play for first division teams, national teams, the olympics, developmental leagues that are directly affiliated with first leagues, and all other athletes who play, train, and compete professionally.
We are offering exercise prescriptions and the use of our training facility, for individual, contactless, physically-distanced training.
Please enquire by calling 905-597-3555 or emailing us at info@speedtraining.ca. 
Group Training
GROUP TRAINING hours will be 4pm to 9pm in order to accommodate smaller groups.
SMALL, PHYSICALLY DISTANCED, GROUP TRAINING is permitted for elite amateur athletes.
You must have an appointment to come in and train, as mandated. We regret that athletes who come in without a booking will be turned away.  
You must schedule your appointment via the athlete's portal. If you are having trouble using the athlete's portal – please call us at 905-597-3555. 
GTA SPORTSPLEX COVID PROTOCOL
GTA SPORTSPLEX
PLEASE READ THROUGH THIS CAREFULLY FOR THE COVID-19 PROCEDURES at the VAUGHAN SPORTSPLEX II.
1. Anyone entering the facility who is 12 years of age and older (born 2009 and prior) MUST show proof of full vaccination. As of November 1, 2021, use of the Provincial enhanced vaccine certificate (with embedded QR code) along with a valid form of ID will be the only acceptable form of proof of vaccination. The enhanced vaccine certificate/QR code can be stored digitally on an individual's cell phone, or a printed copy can be presented. Proof of ID can also be a stored photo on an individual's cell phone or photocopied version of a physical card.
2. Masking while in the facility is required at all times. Spectators, parents, guardians, staff and volunteers must wear an appropriate face covering at all times. Players, coaches, match officials who are actively participating on the field must wear a mask while entering the facility, using bathrooms, and when exiting the building. Masks can be removed for play or practice, when on the field or courts only.
3. 1 parent/guardian/spectator who is staying to watch, must scan the QR code provided by the facility with their phones, complete the screening and show the green check mark before entry. Parents/guardians/spectators are only permitted to watch from the courts or on the field sidelines.
** SIDE NOTE: Many associations have advised clubs of a 1 spectator/child policy. In order for us as a facility to stay within our maximum capacity limit, we too are following the above-mentioned suggestion.  We kindly ask that you continue to support us during this time and advise all parents within your organizations of this 1 parent/child policy.  If parents continue to disregard this policy, making it difficult for the facility staff, access to the facility will be denied.
4. Cleats are NOT permitted on the turf fields.  No street or black sole shoes are permitted on the court.
5.No outside food or drinks are permitted in the facility.  This includes coffee. Please advise the members within your groups that we do not have a water filling station.  Bottles of water, along with food, snacks and refreshments can be purchased from our Snack Bar area.
6.Once the group has finished their games and/or sessions, we ask that players and parents exit the facility.
Thank you
MEMBERS MUST REVIEW IN FULL - SPEED TRAINING COVID PROTOCOL
Speed Training is actively monitoring the situation and spread of the Novel Coronavirus (COVID-19) in the Greater Toronto Area to ensure the health and safety of our members and staff.  
What Safety Precautions Have We Implemented?  
Speed Training/Soccer Fitness has implemented the following improvements:  
Parents will wait outside of the Training Lab, upstairs on the balcony or in the waiting area if there is room to physically distance. Parents cannot wait Sportsplex's downstairs lobby or inside the training center; (WAITING NOT AVAILABLE FOR ALL AGE GROUPS)

We ask that you only to enter building ONLY 5 minutes before training;

Athletes will only be permitted to enter the Training Centre at their scheduled training time, once the previous group has left, not before;

Athletes must bring their own full water bottle. If they need to use the water dispenser, they are to use only disposable dispenser cups;

Masks must be worn upon entering and leaving. Masks can be stored next to water bottle placement;

We have provided additional hand sanitizer stations, with disinfectant wipes and tissues throughout the training centre for members;  

We have increased frequency of sanitization and cleaning of fitness equipment, training surfaces, door handles, and other surfaces;  

 

We have improved communications to members and staff in regards to how they can prevent the spread of the virus;

All member training with us must fill in Sportsplex II's COVID Declaration form.
What Else Can You Do?   
Wash (for 30 seconds with soap) or Sanitize your hands upon entering Sportsplex II and the Speed Training Lab + High Performance Centre;

 

Do not shake hands (including teammates) for the duration of the possible outbreak of the virus and until Public Health Advisories are lifted;

 

Cough and sneeze into the bend of your arm or tissue, not your hand; 

 

Stay home and seek medical advice if you are experiencing flu-like symptoms; 

 

Wash your hands more frequently with soap and water or use hand sanitizer; 

 

If you have recently travelled, please follow public health advisories and practice self-isolation of 14 days; 

 

Stay informed of recent health advisories by visiting York Region Coronavirus Health Advisory Page: 

https://www.york.ca/wps/portal/yorkhome/health/yr/infectiousdiseasesandprevention/coronavirus/

 





If Speed Training Coaches and Management Team believe we need to take further action, we will be notifying our members through email and notices posted at our 

centre

 and this page

.

Please stay subscribed to 

our 

mailing list to receive notifications. 
Should you prefer to forgo training for the next little while, we encourage you to sign-up for our 6-Weeks Out: AT-HOME Training Program. We designed this program to help people stay active and train, using a science based protocol, while they are at home. 
IF YOU ARE FEELING SICK
If you are feeling sick – even if you think it is a "mild cold" – DO NOT come in to train. Some people do not have severe symptoms, therefore, we must protect those around us who may get severely ill, by taking the right precautions.
Check your temperature, monitor your symptoms, and if you have any COVID symptoms, we strongly recommend that you get tested. 
If you test positive with COVID and you were recently training in our centre, that is, if you believe you may have been infected at the time of training, please notify us immediately so we can take appropriate steps. 
Please note that as per the COVID DECLARATION FORM administered by Sportsplex II, all persons who show symptoms of COVID, whether they test positive or not, and all persons who knowingly have been in contact with an individual who has COVID (that is, have knowingly been exposed) are NOT PERMITTED to train until they receive clearance from their local health department or have maintained the appropriate period of isolation (14 days from last date of exposure). 
Sanitization and limitations on training
In order to maintain high and ongoing sanitization of the training centre, groups have been limited to 10 athletes training at once. That means only 2 group of 5 athletes will train per hour and they will not be sharing equipment, aside from the treadmills. Treadmills will be wiped with disinfectant wipes after every use. All equipment will be wiped down at each use.
Doorknobs, counters, debit machine, and other relevant surfaces will be wiped with disinfectant wipes every hour, between training groups.
Tissues and hand sanitizer are provided throughout the centre. Athletes and family members accompanying them will be expected to sanitize their hands upon entering Vaughan Sportsplex II, as per Sportsplex's protocols.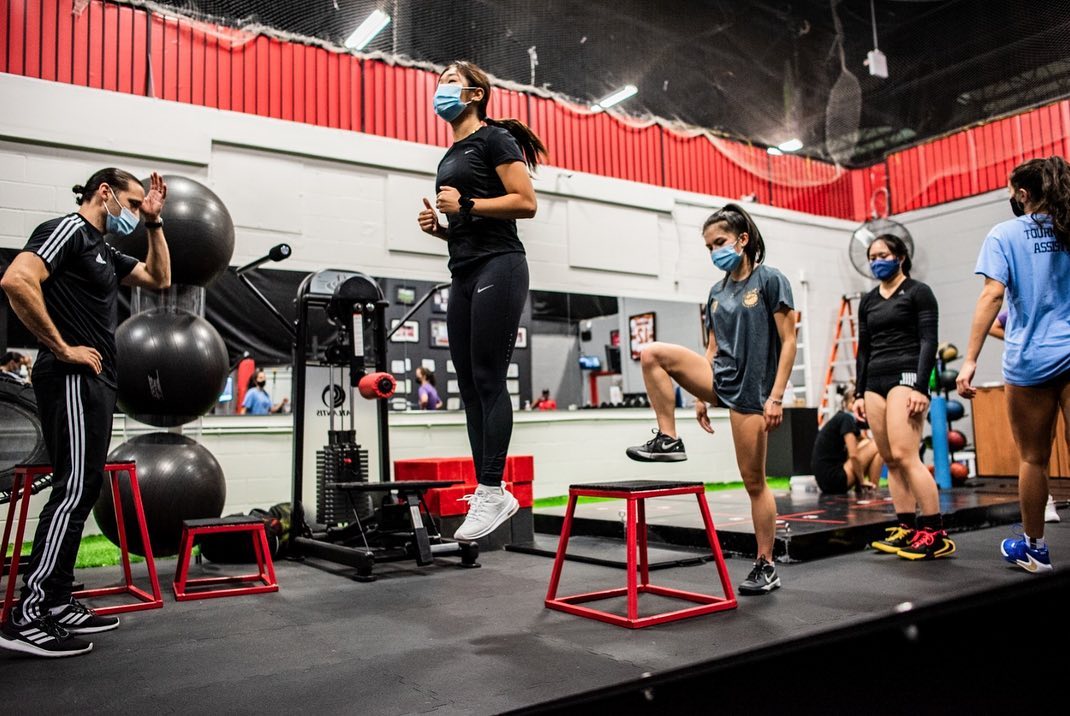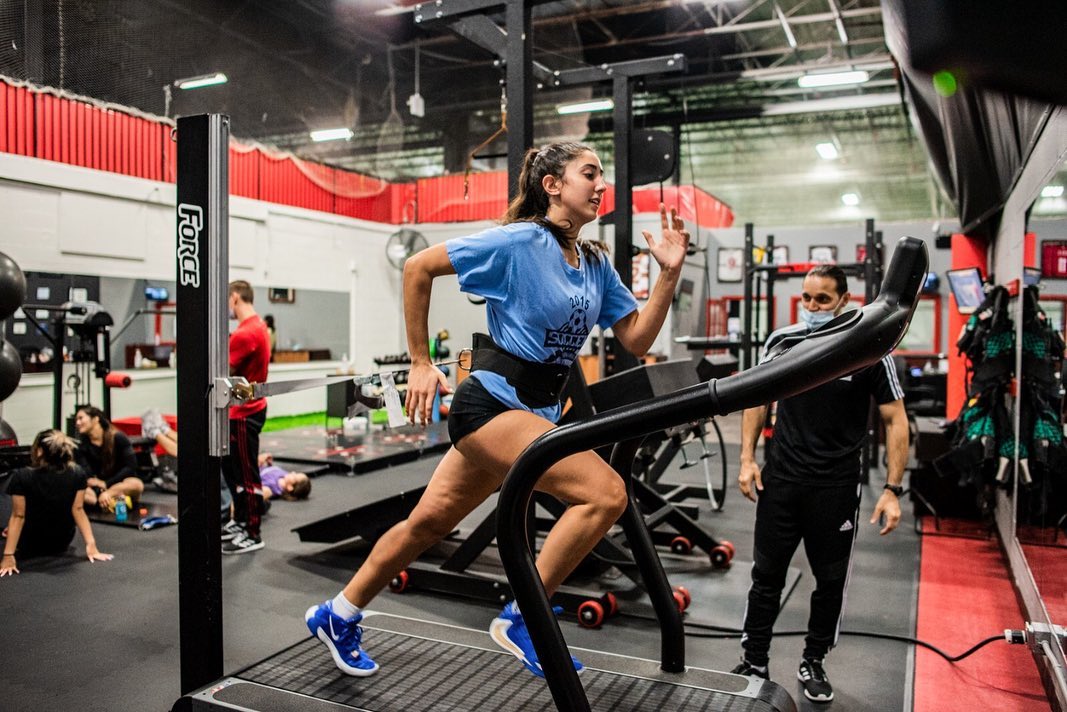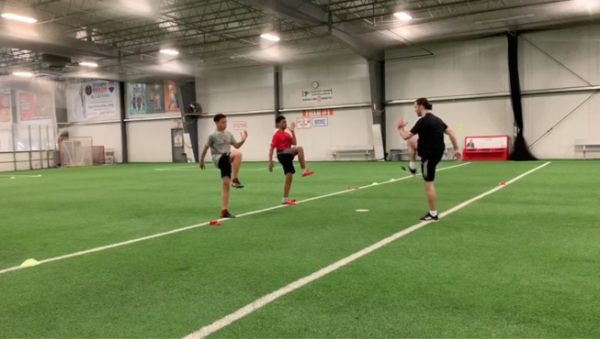 CURRENT TRAINING OPTIONS
Athletes, find the science-backed training and testing package that helps you reach your goals.
CURRENT MEMBERS: Stay subscribed to the current members mailing list or re-subscribe here, for up to date information.
Subscribe to our YouTube Channel for regular updates, videos on Sports Science, Injury and Recovery and much more!